<![if !vml]>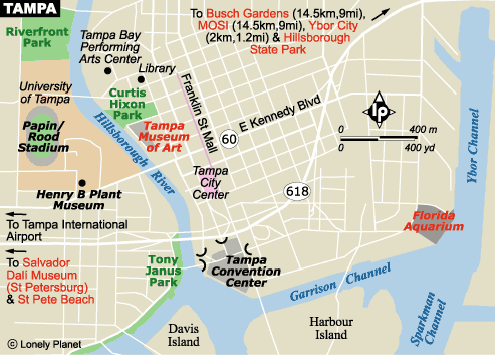 <![endif]>
Tampa
The thriving west coast city of Tampa is out to prove that not all the action in the warmly-welcoming southern state of Florida happens at Miami Beach or Cape Canaveral. At the heart of its revitalization is Ybor City, the historic heart of the old cigar industry.
Tampa is also living testimony to the fact that not every Floridian has an incurable predilection for Gloria Estefan and a sartorial insensibility that teams B-Grade actors, five-o'clock-shadows, and pastel jackets with rolled-up sleeves. Miami Vice, you have a lot to answer for.
While it's true that Tampa, in combination with nearby St Petersburg, is energetically promoting the sundry pleasures of holidaying off the annoyingly pleasant Gulf of Mexico, it's also attempting to throw off the big-haired, buffed-bod, rollerblading stereotype that sticks like fake tan to any city south of the 30° parallel.
Population: 285,000
Country: USA
Time Zone: GMT/UTC -5
Telephone Area Code: 813
Orientation
Thrusting out rudely towards Cuba from the southeastern corner of the USA, where it helps keep the placid Gulf of Mexico to the west from mixing socially with the rather more temperamental Atlantic Ocean to the east, is the fat little peninsula that the majority of the state of Florida calls home. Florida also claims a comparatively small strip of North American turf jutting out from below the southern borders of Alabama and Georgia. It's known colloquially as the Panhandle due to its undeniabley panhandley shape.
Strung out along the peninsula's east coast are prominent Florida sites like the space-shuttling Cape Canaveral, the theme-park scramble of Walt Disney World and the garish pastels of Miami's Art-Deco architecture. Refreshingly, the western side of the peninsula is a far less trammeled and fashion-conscious stretch of coastline. About halfway along the west coast are the sheltered confines of Tampa Bay, on the northern shore of which is its urban namesake, closely shadowed to the west by the similarly-sized city of St Petersburg.
Tampa's highway-threaded downtown area is mainly on the eastern bank of the sizeable Hillsborough River, which empties out beyond compact Davis and Harbour Islands into the small Hillsborough Bay. Making up the rest of the main local watercourses are Garrison Channel, which is the southern boundary of the downtown area, and Ybor Channel, which skirts the inner city 0.6mi (1km ) to the east. Franklin St, which runs north-south, is a pedestrian mall for most of its length. Two blocks east and running parallel to Franklin is Marion St which closes itself off to all motorized traffic except public buses. Lying in Tampa's northeast is the distinctive Ybor City district, once the hub of the country's cigar industry and now the hub of Tampa's nightlife.
Tampa International Airport is located 13mi (21km) west of downtown, while the city's Greyhound bus terminal is on Polk St - just east of Franklin St - and the local Amtrak train station is further east on Nebraska Ave.
When to Go
The best weather and the greatest crowds occur from December until May, when temperatures average between 60°F and 80°F (15°C and 27°C), rainfall is slight and communal spirits are high. From June to September, soaring heat and pouring rain combine to create one huge open air humidor, a dramatically clammy and unpleasant atmosphere in which ferocious thunderstorms are frequent early-afternoon visitors.
This is also part of Florida's hurricane season which officially runs from June through November. The season regularly passes without catastrophic incident but as recently as a decade ago, a category-4 hurricane (innocuously and rather deceptively called Andrew), generating winds of up to 155mph (250kmph) and ocean surges over 18ft(5.5m)-high, passed through Florida on its way to becoming the most expensive natural disaster in US history. Oh, and did we mention that Florida has about 70 types of blood-sucking mosquitos? The only real reason for considering an extended visit at the peak of summer is that many other tourists will seriously consider staying away.
Attractions
Busch Gardens
Competing with Walt Disney World to empty the wallets of Floridian fun park aficionados is Busch Gardens, an African-themed exercise in big-budget amusement that's located on its own boulevard about 3mi (5km) north of downtown Tampa. Busch is equipped with a number of rides designed to scare the crap out of you and everyone in your immediate vicinity, including an inverted roller coaster called Montu that has a 104ft (31m)- vertical loop and another coaster (Kumba) with a 360° spiral and an endless supply of loop-n-puke twists. The park also has a mock Egyptian area that would make King Tut weep with nostalgia, a landscaped domain stocked with gorillas and chimps, and an 80ac (32ha) imitation of the Serengeti that's inhabited by lions, zebras, giraffes, camels and other large mammals. Next door to Busch Gardens is Adventure Island, a 36ac/14ha water park with various slide rides, swimming pools and waterfalls.
Florida Aquarium
The wonderful three-storey Florida Aquarium is on Channelside Drive, so-named because it runs alongside Ybor Channel to the east of downtown. The aquarium's thematic exhibits range from a wetlands recreation - complete with limestone cave, mist-topped water, mangroves and resident turtles (plus some alligator spawn) - to an indoor dune-studded beach and a coral reef that's held prisoner in a very large tank. With its coral-littered interior, fish-starred waters, and staff divers that take turns cataloguing the incredible display of sea life to a watching crowd via an intercom system, the colourful reef is a highlight of any visit to the aquarium.
If, after visiting the aquarium, you still haven't had your fill of creatures great and small, head northeast out of downtown towards Busch Gardens and you'll soon run into the enclosure-dotted environs of Lowry Park Zoo. This is where the alligators and bison roam...captive, and assorted birds flap around a huge aviary. Rare animals that have been given shelter here include the Florida panther (less than 50 still in the wild), the ocean-dwelling Florida manatee or sea cow, and an Indian rhinoceros (both these last two numbering less than 2000 in the wild). Even stranger looking animals given shelter here include the naked mole rat, a subterranean critter from northern Africa. Next door to the zoo is the Children's Museum of Tampa, with heaps of interactive displays and a shrunken replica of downtown where kiddies can play superboy (or girl) and leap tall buildings in a youthful bound.
Museum of Science & Industry (MOSI)
Mosey along to MOSI to see one of the most educational, absorbing and child-friendly science fairs in Florida. Set up in an impressively overfed building on Fowler Ave, to the north of Tampa's downtown, the museum is wedged between the academic campus of the University of South Florida and the no-brainer rides of Busch Gardens, and contains a terrific array of hands-on exhibits. You can play an oversized game of pinball to see how energy is produced, take out the average American's distinctly greater-than-average amount of domestic trash, and pilot a small hot air balloon (though unlike other ballooning trips, this one comes without a sunrise or a glass of champagne). The museum also has various changing exhibits and an IMAX cinema where you can get up close and personal with the images on the screen.
Museum fanciers should also make the short trip west from downtown across the Hillsborough River to the University of Tampa campus. At the southern end is the whimsical Henry B Plant Museum. It may sound like a botanical garden but it's actually a restored welcome-if-you're-filthy-rich hotel that was built in 1891 by Florida railroad magnate Henry B Plant. In its day it was about as luxurious an accommodation option as you could get, with extravagantly outfitted en-suite rooms, a solarium, a grand salon, and an expensively eclectic collection of furniture garnered during Plant's world travels. The hotel overestimated the extent of its Tampa region patronage, however, and shut down at the start of last century, only to be taken over by the city and subsequently be reopened as an historical exhibit in 1974.
Tampa Museum of Art
Down by the river in the heart of downtown is the huge, recently built home of the Tampa Museum of Art, which offers a satisfying selection of art, sculpture and photography including the work of up-and-coming Florida artists. Stand-out exhibits include a glassed-in terrace (where avant-garde sculptures pose dramatically with the Hillsborough River as their scenic backdrop) and a gallery of Grecian and Roman antiques which includes a collection of old lamps, vases and trophies plucked from a 2nd-century grave altar. The museum also has a well-stocked book and souvenir shop.
Tampa Theatre
The still-operational Tampa Theatre on Franklin St is a beautiful palace of a place built in 1926 and decorated with a star-spangled ceiling, mythological statues and a very large, ear-shaking Wurlitzer.
Ybor

City
Ybor City is a small district in Tampa's northeast that was once the Cuban cigar-making capital of America. To gain an insight into the history of this area and its pungent produce, visit the large Ybor City State Museum, located in a former bakery and filled with sepia photographs of factory interiors and 100-year-old streetscapes. Sharing the grounds of the museum proper are a couple of reconstructed worker's homes and a historical home called La Casita, the latter accessible by guided tour only. At the western end of the district is Ybor Square, which in 1886 launched one of the area's first cigar factories (the building is still standing) and today comprises a shopping mall and an impressive number of bars.
The Ybor City Brewing Company is located inside another former cigar factory that has been redeveloped into a thriving microbrewery. Cheap tours of the premises are available, with all proceeds going towards local restoration projects. Avid smokers should head for either Tampa Rico Cigar, where you can not only buy something to puff on but also get a lesson in cigar making, or the retail humidor called Metropolitan. The majority of Ybor City's lively bars and clubs, including plenty of perpetually crowded gay and lesbian venues, can be found around Ybor Square and along the main east-west thoroughfare of 7th Ave (also known as La Septima).
Off the Beaten Track
Clearwater Beach
On a barrier island directly north of Long Key - barrier islands are the natural buttresses lying along the coast - is Clearwater Beach, a fine spot for swimming and sunbaking, not to mention canoeing, kayaking, cycling and shell-collecting. If you get bored sitting in the sun, have a look at the local nonprofit aquarium which dedicates itself to rescuing and nursing marine animals including dolphins, turtles and sea otters. Clearwater's Pier 60 is besieged by craft stalls and buskers around sunset from Thursday to Monday.
Hillsborough State Park
Accessible only by car, this popular park is spread out over 3400ac (1360ha) on a spot 9mi (14.5km) to the north of Tampa and makes a refreshing changes from the commercial artifice of the area's theme parks. Here you can accompany a ranger on educational walks around the greener; rent a canoe and plough along the docile Hillsborough River; randomly select a hiking trail; feed yourself over a picnic table; or plunge into the onsite swimming pool. To see a bit of pseudo-history, fork out a buck to take a self-guided tour of a reconstruction of Fort Foster. The original structure was erected in 1836 to help defend a river crossing during the Second Seminole War.
Salvador

Dalí

Museum
In St Petersburg itself is the largest collection, outside of Spain, of Dalís distinctive creative weirdness. The connection between the well-moustachioed surrealist and this southwestern Florida city is...fish. You can gawk at works representing every period of the artist's development from his early Impressionism and Cubism, through to the surrealism for which he's best known. Marvel along the way at the inspired lunacy (or arguably just plain idiocy) of canvas titles such as The Hallucinogenic Toreador, or the infectious disease-sounding Galacidalacidesoxiribunucleicacid. The museum has a total collection of nearly 100 of Dalí's oil paintings.
St Pete Beach
Around on the St Petersburg-occupied side of Tampa Bay, at the southern end of the low wafer-thin island of Long Key wrapped around the city's Gulf coast, are the enticingly blue waters and expansively white sands of St Pete Beach. It's a popular day trip from Tampa's metropolitan neighbour, St Petersburg. Dominating part of the foreshore is the big pink outline of the Don CeSar Beach Resort, built in 1928 and a regular stopover for well-mannered society types like F Scott Fitzgerald and Al Capone. The place was completely restored in the late 1980s and recommenced its career as a resort hotel shortly after. About 2mi (3.2km) south of the hotel is the newish Gulf Beaches Historical Museum, which has a large collection of 19th-century photographs of the sandy bits of Florida's western coastline as well as some Indian artefacts.
Activities
Canoeing is a mightily popular local activity, be it on the Hillsborough River or in the warm Gulf waters at nearby Clearwater Beach. Cyclists are a common sight around town, with various events and riding groups regularly organized: many public buses are equipped with bicycle racks. Ice skating is possible year-round at Town & Country Skateworld with the admission price including skate-hire, while anyone into friendly fire can try paintball at the Thunderbay Paintball complex. Meanwhile, one-hour hot air ballooning tours are conducted over the city at dawn each day (depending on the weather) and period-garbed actors lead ghost tours on foot through Ybor City.
History
Present day Tampa became a trendy place to settle down as early as 3000 BC (the late Archaic period), according to the evidence of shell middens in the area. The largest Indian group in the region prior to the arrival of the Spanish in the 16th century was the 20,000-strong Calusa. The Calusa made their lack of affection for their first European visitors abundantly clear in 1513 when one Juan Ponce de León ran into the Atlantic coast of Florida and then, after sailing around the peninsula, tried to come ashore in Tampa Bay only to be repelled by its Indian occupants. Ponce de León was a persistent fellow, however, and returned in 1521 with settlers and livestock, only to die from a Calusa-inflicted poison arrow wound. Eighteen years later another Spaniard, Hernando de Soto, arrived and noted an Indian fishing village on the bay but again failed to make any inroads.
The Spanish finally succeeded in establishing a base on the east coast of Florida in 1565 - they called it St Augustine and it constituted America's first permanent European settlement. War dominated Florida for the next two centuries with armed conflicts continually breaking out between the Spanish, French and British. The British seizure of Spanish-controlled Havana in the 1761 led to the First Treaty of Paris, by which Spain agreed to swap Florida for Cuba. But a mere 20 years later, the Second Treaty of Paris, which was negotiated at the end of the seven-year American Revolution, saw the British return Florida to Spain, albeit with a new and burgeoning social structure.
The US undertook an aggressive expansion south into Florida via the War of 1812 and five years later provoked one of the state's main Indian tribes, the Seminole, into the First Seminole War. The Second Seminole War began in 1835 and ended seven years later with the displacement of the surviving Indians to the Everglades. The end of this battle also paved the way for Florida to be admitted into the Union in 1845, though the US Civil War soon put an end to the Confederacy. In the meantime the small settlement of Tampa had risen, starting with the establishment of Fort Brooke in 1824 a mere two months after the arrival of the first American settler. Southwest Florida opened up to significant development at the end of the 19th century, when railroad magnate Henry B Plant built a railway line that connected the region with the state's northeast and also established a steamship line between Tampa and Havana.
Speaking of Cuba, in 1886 Vicénte Martínez Ybor and Igancio Haya relocated their Cuban cigar-making enterprise from Key West to Ybor City, a district in Tampa's northeast, inaugurating Tampa's 20th-century dominance of domestic cigar manufacture. Their business decision, arrived at after Key West union organizers got too effective at their jobs, led to an influx of other cigar makers and Ybor City became the cigar capital of America over the first half of the 20th century. Tampa also benefited in the 1890s from the discovery nearby of valuable phosphates which were exported through the city's growing port, and the city was used as a military staging area for US troops to Havana during the Spanish-American War. Tampa's domination of the domestic cigarillo industry finally came to an end in 1959 when Fidel Castro's revolution sparked a US embargo on Cuban products, sending Ybor City and the rest of Tampa into a 30-year decline.
The socio-economic rot stopped just over a decade ago when Ybor City was officially designated a national historic district and underwent a transformation into the gentrified residential area and hip entertainment centre it is today. What's been good for Ybor City has also been good for the rest of Tampa, which has benefited greatly from the extensive rejuvenation of its old district, as well as from the establishment of a swag of excellent museums, fun-loving Busch Gardens and a swelling tourist presence on the nearby Gulf-coast beaches.
Getting There & Away
The region's main airport is Tampa International Airport, 13mi (21km) west of the downtown area, though plenty of flights also touch down at the St Petersburg-Clearwater International Airport. The terminals of Tampa are utilized by international carriers such as British Airways, Air Canada and Lufthansa, plus a roll-call of domestic airlines like Delta, United, America West and Continental.
To get to Tampa (or anywhere else in Florida for that matter) by interstate bus involves traveling down through at least a bit of Alabama or Georgia and eventually pulling up at the city's Greyhound bus terminal on Polk St. Possible rides to cities within Florida from Tampa include a two-hour trip south to Sarasota (US$12), a two- to four-hour trip northeast to Orlando (US$16), a seven- to nine-hour trip southeast to Miami (US$35) and a four-hour trip north to Gainesville (US$20). For a journey via steel wheels that can lead as far afield within the USA as Los Angeles or New York, and additionally into Canada, try the Amtrak station on Nebraska Ave.
Getting Around
Tampa's metropolitan public bus network is operated by the Hillsborough Area Regional Transit (HART), which charges US$1.25 for the 40-minute trip between the airport and the Northern Terminal downtown. Private shuttle buses charge up to US$15 for the same trip; ditto taxis. You can rent a vehicle from the large bunch of major car rental agencies at the airport. A restored historic trolley does a circuit taking in downtown Tampa and Ybor City, running a couple of times an hour during the day only; the adult fare is US$0.25.
Further Reading
For an authoritative account of the history of the state, read The New History of Florida, edited by Michael Gannon and including contributions by numerous experts on aspects of the state's past.
The

Ybor

City Story, translated by

Eustasio

Fernandez and Henry Beltran, will tell you all about the industry that put

Tampa

on the American economic map.

Outdoor enthusiasts who want to hone their paddling skills and learn how to balance a rocking boat should pick up The Canoe Handbook by Slim Ray.

The Green Guide, Florida

, by Marty

Klinkenbergh

and Elizabeth Leach, is a book for those planning on spending a lot of time in

Florida

's parks and wilderness areas.