<![if !vml]>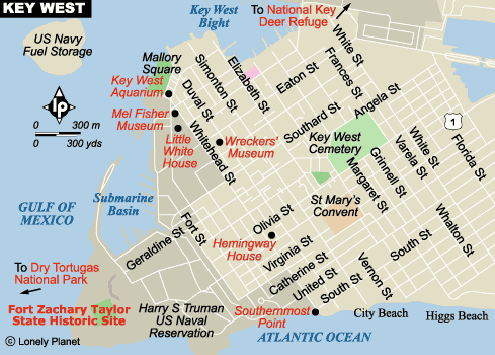 <![endif]>
Key West
The islands to the south of Miami were once underwater coral reefs, and they're still recognized for their marine life today. Linked to Miami by a precarious island-hopping 135-mile (216km) highway, the string of islands ends at Key West, the land of Hemingway, sunset celebrations and Key Lime Pie.
Key West's reputation as a tropical paradise with gorgeous sunsets and sultry nightlife is well-earned. It's overrun by tourists, but if you look carefully you'll find fleeting images of the Key West of the past in the narrow side streets, although Hemingway's Key West is several decades gone.
Key West's reputation as a tropical paradise with gorgeous sunsets and sultry nightlife is well-earned. It's been overrun by tourists, but if you look carefully you'll find fleeting images of the Key West of the past: walking through the narrow side streets away from the action, you'll see lovely Keys architecture and get a sense of how the locals who aren't there to sell you a T-shirt or book you on a glass-bottomed boat ride live. However, if you're looking for Hemingway's Key West, you're several decades too late.
If you're just looking for evidence of the big guy, the Ernest Hemingway Home & Museum is one of Key West's biggest attractions. Hemingway lived in this lovely Spanish-Colonial house between 1931 and 1940, but kept ownership until his death in 1961. While he's not buried here, the Key West Cemetery is one of the more enjoyable cemeteries in the country: tombstone epitaphs include 'I told you I was sick' and 'At least I know where he is sleeping tonight'.
Key West is roughly oval shaped, with most of the action taking place at the western end. Mallory Square, at the far northwestern tip, is the site of nightly sunset celebrations. The best diving is off Key West's southern shore.
Key West is the most populated and touristed of the islands. It lies about 160 miles (258km) from Miami along the Overseas Highway. Greyhound buses leave Miami's Bayside Station for the 5 hour trip several times a day. American Airlines, Chalk's International Air, Gulfstream Air and USAir all have several flights a day between Miami and Key West. Key West's airport is at the southeastern end of the island.
Full country name: Key West
Area: 10 sq km
Population: 25,000
Time Zone: GMT/UTC -5 (Eastern Time)
When to Go
'Just another day in paradise' is probably the best way to describe Key West's weather from October to June: It rarely gets below 65°F (18°C) or above 90°F (32°C). This makes it a summertime weekend destination for overheated Miamians, and a year-round attraction for the rest of the world's population, all of whom seem to be here during the tourist season (December through to April).
Hurricane season, from June to October, lets budget travelers will enjoy lower costs and less crowded beaches, but just remember that one little hurricane can ruin your whole vacation. Of course, an emergency evacuation across 159mi (256km) of flimsy-looking bridges has great 'amusing anecdote' potential.
Events
Every evening is an event in Key West, as the fabled sunset celebration sees cobblestoned Mallory Square come alive nightly with jugglers, acrobats, beds-of-nails-lying-downers and hoop-jumping cats. Though cheesy, this is more like Stilton than bland cheddar. For a more concentrated Key West experience, come down December 31 for the New Year's Eve festivities; in March for the Conch Shell Blowing Contest, a 40-year tradition (it's more difficult than it looks); late April for the 10-day Conch Republic Celebration, in honor of the short-lived but festive independence of this would-be Caribbean nation; and late October for the Haunting of Fort Zachary Taylor, when the US Coast Guard gets the 'Isle of Bones' spruced up for a scary historical experience, followed by Fantasy Fest, Key West's massive Halloween bash.
Other classic Key West events include PrideFest in June, when the island - already a top destination for gay and lesbian party people from all over - hosts a fabulous party. Bearded gents won't want to miss July's Hemingway Days Festival, topped off with an author lookalike contest, while kitsch connoisseurs simply must experience November's Pirates in Paradise festival, when locals transform the old boat harbor into a rollicking rumrunner reenactment. Yo ho ho!
Attractions
Hemingway House
Ernest Hemingway - known as much (in Key West, anyway) for his drinking as for his distinctive style and riveting tales of moral dilemmas - worked and drank here during one of his most fertile periods. From 1931 to 1940, Hemingway lived in this lovely Spanish-Colonial house, where he wrote several bestsellers including A Farewell to Arms.
It was also here, in the garden, that Hemingway installed Key West's first saltwater swimming pool: a construction that set him back so much that he pressed 'my last penny' into the cement on the pool's deck. It's still there today. Hemingway kept ownership of the house until his death in 1961.
Though most visitors are here to bask in the presumably still-active aura of the author's genius, others come just to see the 'Hemingway cats,' who rule the house and grounds - the brood features six toes per paw.
Key West Aquarium
This aquarium, right on Mallory Square, has been here since 1932. Though its age shows, the friendly and helpful staff make up for it, and besides, kids always have fun in aquariums. They have touch tanks with starfish, conchs, sea cucumbers and other interesting things and lots of fish tanks filled with catfish, doctorfish, snappers, angelfish and more. Outside are the tanks for barracudas, sharks and sawfish; there are also turtles. They sometimes bring around live sharks for visitors to touch as part of their 'Pet a Shark' program. Signs are well done and staff members are happy to answer your questions.
Mallory Square
The site of Key West's nightly sunset celebrations, Mallory Square is a cobblestoned area at the northwestern end of town that overlooks the old boat harbour. Even if you're not up for the evening festivities, this is a great place to start your grand tour of the city, or pick up several souvenirs to commemorate your experience.
If none of the knick-knacks seem tempting, head down Duvall St and pick up a Hemingway Hammer (151-proof rum, banana and strawberry liquor, blackberry brandy and a dash of white rum) instead at Sloppy Joe's Bar, the Hemingway Hangout of record. Three blocks away and almost as famous, Jimmy Buffet's Maragaritaville Cafe serves cheeseburgers in paradise.
Hangover-free attractions abound as well. Audubon House wasn't built until after the famous painter visited in the early 1800s, but has a nice collection of antiquities and historical anecdotes, plus simply fabulous gardens. Jessie Porter's Heritage House & Robert Frost Cottage is a Caribbean-colonial showpiece with small museums to those two artists.
Mel Fisher Museum
The Mel Fisher Maritime Heritage Society Museum exhibits the galleon treasures of the Santa Margarita and the Atocha, discovered by the late Mel Fisher in 1980-85 (he started his search for these galleons in 1969). The various jewels, tools, coins and navigational pieces are displayed on the ground floor, along with a world map showing the routes of those ships and some hands-on stuff (touch an item that you can't see and figure out what it is). On the 2nd floor you'll find displays of modern diving techniques, an electrolysis tank and the like. Mel, whose motto was 'Today's the day', could be seen walking through the museum until months before his death in 1998.
Wreckers' Museums
There are two museums dedicated to study of the 'wreckers', who found unique job opportunities living this close to treacherous waterways pummeled by violent fall storms. In Key West and Islamadora, wreckers would salvage goods from sinking and sunken ships. They weren't pirates - they were federally licensed workers who would scavenge the wrecks, bringing the cargo into Key West to auction.
The Wreckers' Museum/the Oldest House was the home of Francis B Watlington. It's filled with period antiques and has enjoyable, volunteer-led tours. More expensive and more interesting is the Key West Shipwreck Historeum, which has a narrated film portraying the lives and times of the wreckers. Knowledgeable volunteers explain how Key West developed as a port.
HOME


 


Off the Beaten Track
Dry Tortugas National Park
The Dry Tortugas (pronounced 'tor-TOO-guzz'), a tiny archipelago of seven islands southwest of Key West, was first 'developed' 300 years after its discovery by Juan Ponce de León, who named the area for the hawksbill, green, leatherback and loggerhead turtles that roam around the islands. Sailors later changed the name to Dry Tortugas for the obvious reason that there's no fresh water here. In 1846, construction began on Fort Jefferson: the USA saw the wisdom in a fortification there to protect and control traffic into the Gulf of Mexico. A federal garrison during the Civil War, Fort Jefferson was also a prison for Union deserters and other criminals, among them Dr Samuel Mudd, arrested for complicity in the assassination of Abraham Lincoln. The fort was established as a national monument in 1935 by President Roosevelt, and in 1992, the elder President Bush showed great character by signing legislation that changed the name from Fort Jefferson National Monument to Dry Tortugas National Park.
Today the park is open for day trips or overnight camping. It's a fascinating place, and the sparkling water offers excellent snorkleling and diving opportunities. Sleeping over is a unique experience: so close to the hubbub of Key West, but blissfully peaceful. The Yankee Freedom is a fast ferry that runs between Garden Key and Land's End Marina at the foot of Margaret St in Key West. Key West Seaplane Service will also get you here.
Fort Zachary Taylor State Historic Site
Fort Zachary Taylor, at the southwestern end of the island, was in operation from 1845 to 1866. When the Civil War broke out in 1861, Union forces moved quickly to control the fort. There were huge losses for the Confederates, who couldn't get past the 10-inch Rodman and Columbiad cannons, which had a range of 4.5km. Today it's open as a state historic site and park, where you can see the big guns or just enjoy the picnic tables and beach - the deepest, clearest water on the island - great for swimming.
Little White House
This museum was once the vacation home of President Truman, who called the other White House the 'Great White Jail.' He first came to Key West on doctor's orders - complaining the whole way - in 1946, but by 1949 had penned a note to his wife, Bess: 'I've a notion to move the capital to Key West and just stay.' The house fell into disrepair during the 1970s, but in 1991 two Detroit business people funded its restoration. You can only see the house on a guided 40-minute tour, and it's worth the time.
Truman's poker table, a desk where he reputedly wrote more than 15,000 personal letters and a framed front page of the Chicago Tribune with the infamous headline 'Dewey Defeats Truman,' are just a few of the artefacts onsite. You'll also see pictures of the nation's 33rd president wearing his 'Key West Uniform,' typically a floral Hawaiian shirt. It's no wonder Truman felt so at home here: Guides mention that 'Harry' came downstairs every morning at for a quick shot of bourbon with an orange juice chaser. Well, Hemingway had the rum and Buffet got the tequila.
National Key Deer Refuge
The National Key Deer Refuge, sprawling over several Keys, is only open to the public in certain areas, including Blue Hole, a large quarry that's now the largest body of water in the Keys; Watson's Hammock, a prime Key deer fawning area with a short nature trail; and No Name Key, the least visited site but an excellent place to see the diminutive deer. The best times to see Key deer are in the early morning and late afternoon; ask at the refuge headquarters for tips on where to find them.
Nearby, Great White Heron National Wildlife Refuge is also administrated by the Key Deer Refuge, and comprises two large but little-visited wading bird nesting areas, where you can see herons, ibis, egrets, ospreys, hawks and even eagles, as well as fish, crabs, sponges, coral and mangroves. Kayaks and canoes are permitted within the preserve, since much of it is inaccessible except by boat, but there are no services.
Southernmost Point
The most famous photo-op in town is at the corner of South and Whitehead Sts, a marker at the southernmost point of the continental United States that notes the distance to old Cold War rival Cuba. There are also souvenir stands and the occasional street performer.
HOME


 


Activities
Probably the second-most popular activity in town (after bar hopping) is laying around on some peaceful (or not) stretch of sand. There are three city beaches on the southern side of the island: City Beach and Higgs Beach are more family-oriented, while Smathers Beach is popular with the jet skiing and parasailing vroom crowd.
The diving opportunities in Key West aren't as plentiful as in some of the more northern Keys, but they are definitely here. Most companies, many of which are located around Mallory Square, take you west, to sites including Barracuda, Boca Grande and Marquesas Keys. In some of the dive sites - especially around the Marquesas - non-divers can go along and snorkel.
Other outfitters can take you kayaking into Great White Heron or Key Deer Refuges, or on bicycling tours around the Keys, or you can just rent your own and give it a whirl. If you just need a little adrenaline, skydiving is an increasingly popular attraction.
History
The first European settlers in the area were the Spanish, who upon finding the bones unearthed from Indian burial sites named the place Cayo Hueso (pronounced 'kah-ya WAY-so'), a name that was later Anglicized to Bone Island, today Key West. Bought from a Spaniard by John Simonton in 1821, Key West first saw development as a naval base in 1822, and it was the base for David Porter's Anti-Pirate Squadron, which by 1826 had substantially reduced buccaneer activity in the region.
During the Spanish-American War, Key West may have been the most important staging point for US troops, and the military buildup lasted through WWI. And all of the Keys began to boom when Henry Flagler's Overseas Highway - running over a series of causeways from the mainland to Key West - underwent construction.
In the late 1910s, Key West became a bootlegging center as people stocked up on booze for the rainy day that Prohibition was to bring. While the Great Depression, which bankrupted the city, and a hurricane in 1935 ended most people's enthusiasm about Key West (though writer Ernest Hemingway resided here between 1931 and 1940), WWII breathed new life into the place when the naval base once again became an important staging area. And everyone in Washington was happy about that during the Bay of Pigs crisis in 1962.
You will no doubt hear (and see the flag) of the Conch Republic: In 1982, the US Border Patrol and US Customs came up with a terrific (they thought) way of catching smugglers, illegal aliens and various other riff-raff. They erected a roadblock at Key Largo. As traffic jams and road rage mounted, many tourists decided that they might as well go to Disney World, thank you very much, and disappeared.
Enter a bunch of outraged Conchs, who came up with the brilliant idea of seceding from the USA. They formed the nation of the Conch Republic, whose first act was to secede from, and whose second act was to declare war on, the USA. The third act, of course, was to surrender and request $1 million in foreign aid, presumably for more tequila.
Environment
The Florida Keys boast unique ecosystems just packed with endangered species: the tiny Key deer, manatees galore, and loggerhead, leatherback and green sea turtles are just a few of the animals teetering on the brink. Driving and boating carefully, helps protects these amazing species.
Hammocks (tracts of hardwood forest) grow on land adjacent to the water, and support such native flora as gumbo limbos, which have red, peeling bark, and lignum vitae, one of the hardest woods in the world. Other habitats include freshwater marshes, home to razor-sharp sawgrass; swamps, favored by bald cypress and their alien-like 'knees'; wet and dry prairies, dominated by herb bogs and wire grasses; and upland wooded areas, covered with pines, oaks, and shrubs like wax myrtle and gallbery. The warm climate fosters many troublesome exotics such as melaleuca, Brazilian pepper and Australian pine.
Offshore, the Florida's famed coral reefs are the largest in North America and the third largest in the world. The fans and whips found here are unique to Florida. Global warming has led to the bleaching (killing) of many coral reefs here, as it has all over the world, while agricultural runoff, full of phosphates and nitrates, have disturbed the ecological balance further. Don't touch the coral, but take plenty of pictures - these reefs probably won't see another century intact.
Getting There & Away
Key West International Airport is the most-used airport on the islands, although Marathon Airport also has limited (and generally much more expensive) service. Key West is also the place to catch flights (or ferries) to Dry Tortugas National Park.
Greyhound buses leave Miami's Bayside Station for the five-hour trip to the station at the Key West Airport several times daily. Stand anywhere on the Overseas Highway (US Hwy 1) and when you see the bus in the distance, signal firmly and visibly, using all methods at your disposal - up to and perhaps including a flare gun - and the bus will stop to pick you up.
By car from Miami, take I-95 south to US Hwy 1 and follow that until you can't go any farther - that'd be Key West. There are keenly enforced speed limits at various places along the route, speeding fines are high, you'll probably get caught, and should you hit a Key deer while speeding, penalties are stiff. Slow down.
Addresses in the Keys work on a system of mile markers (MM), which are located along the Overseas Hwy: mile 0 is in Key West at the corner of Fleming and Whitehead Sts, and the final marker, MM 126, is 1 mile south of Florida City.
Getting Around
Getting around is pretty idiot-proof in the Keys: there's one main road to everything and public transportation options are limited to Key West International airport, Greyhound buses or private transportation.
The City Transit System basically runs from Mallory Square to Stock Island and the airport, with buses running every 15 minutes or so. You can get printed schedules right on the bus.
The best thing to do with a car in Key West is to sell it: parking is murder, parking tickets are expensive, they're quick to tow and traffic is restricted. You can rent mopeds or scooters at several places on the island. Bicycle rentals are also easily available.
Further Reading
Key West's most famous literary figure is, of course, Ernest Hemingway, who wrote The Short Happy Life of Francis

Macomber

, A Farewell to Arms, Death in the Afternoon and To Have and Have Not, and began For Whom the Bell Tolls, on the island.

The Conch that Roared

by Gregory W

King,

chronicles the (mostly) true story of

Key West

's 1982 secession from the

Union

, its formation of the

Conch

Republic

, and declaration of war on the

United States

.

Bone Island Mambo

and Gumbo Limbo novels by Tom Corcoran, follow forensic photographer and

Key West

resident Alex Rutledge through the laid-back yet still hard-boiled

South Florida

underworld.

The

Florida Keys

: A History of the Pioneers

and Florida Keys:

The

Wreckers, both by John

Viele

, illuminate the island's pre-WWII history.
Wildlife of the Florida Keys:

A

Natural History, by James D

Lazell

, is an excellent and thorough (if a tad outdated) study of most indigenous Keys wildlife.